Posted:
November 24th, 2015 |
Author:
Special Contributor
|
Filed under:
Behind the Scenes
|
Tags:
FWD
,
Nexterday North
|
No Comments »
By Harry Järn, Head of New Business Ventures, Comptel NXT
Last week's Nexterday North delivered big ideas from industry experts, business leaders and futurists who discussed the impact of digitalisation on our world. It also included one big surprise: the launch of Comptel's FWD, a solution that we believe will revolutionise how operators serve customers in the next age of digital services.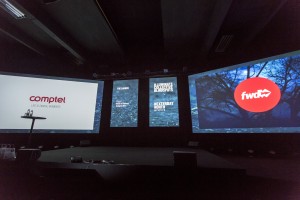 What is FWD? It's a full E2E, cloud-based, white-labelled, solution for operators.
The basic components of FWD, which includes SMPL, the native app, CTRL, the cloud-based controlling system and CNSL, the browser-based operator management tool, combine to create a complete solution for enabling and managing mobile data purchasing.
The native app radically simplifies how mobile customers purchase data. It puts customers in the driver's seat by letting them set their own terms for buying data. It also puts operators in a better position to monetise mobile data at a time when customers desire more control of service terms and highly personalised, instantaneous service.
Our own mobile customer survey demonstrated why many subscribers are frustrated with the current state of mobile data purchasing. According to the report, 65 percent of consumers struggle to find a mobile data package that fully meets their needs, while 62 percent feel their mobile operator lacks a wide enough range of package options.
Part of that frustration can be tied to rigid mobile data packaging. Though they currently buy data by the gigabyte, customers aren't sure just how much data they need. Is a 1GB package enough if you only plan to check emails and surf the Web? Is a 10GB plan economical for someone who watches streaming video on their smartphone?
FWD eliminates customer confusion by empowering mobile users to easily buy time-based data access. Here's how it works: Let's say a user wants to browse Facebook for just a few minutes. After he opens the Facebook app, he'll be prompted with a few time-based data options, whether it's one minute or one month of access. Once the data packet is purchased, the user is free to browse Facebook without limits, and he can easily extend his session if he needs more time.
That means no more bill shocks for surpassing their data overages. No more frustrating data throttling in the middle of a streaming television program or movie. No more complex, extended data service plans. It's a simplified purchasing process that ties directly into customers' desire for data control. Our survey found that 65 percent of mobile users want to set their own terms for buying digital content and services. FWD lets them do that.
The FWD management tool for operators opens up new possibilities to sell, target and market mobile data, as well as monitor your business performance in real time. You have full control over offer creation, which means you can experiment with new ways to entice your mobile customers. Embedded analytics will help you understand how your customers consume mobile data and allow you to react accordingly, which could mean dynamic pricing that helps you run a more efficient and profitable network. All of this analysis occurs instantly and in-the-moment, not after a month of data crunching.
We're also excited about the possibilities FWD offers operators in tapping into a new market: the 2 billion individuals worldwide who have not yet been connected to the internet. With smartphone penetration expected to take off in emerging markets, the question of bringing all these new mobile users only will need to be answered. FWD provides a compelling solution because it's easy to use, fosters customer engagement and loyalty, and encourages customers to spend more on mobile data.
Digitalisation is forcing many operators to re-think how they engage with and serve a new breed of mobile consumer. Comptel is excited to help operators innovate their service approach and drive toward a digital business revolution.
Click here to learn more about Comptel FWD.
---